8-channel audio installation (2016)

Festival des Hörens - 3. + 4. Dezember 2016 Laeiszhalle, Hamburg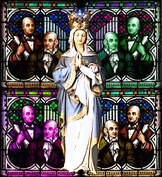 "Theresa Stroetges, Jana Sotzko und Helen Heß (DE) präsentieren im Choreckzimmer das Werk "LOCUS ISTE", eine 8-kanalige Klanginstallation. Die Musikerinnen und Sound Studies-Absolventinnen der Universität der Künste Berlin verwandeln Anton Bruckners Chorwerk LOCUS ISTE ("Dieser Raum») von 1869 in einen immersiven Erlebnisraum, der die Struktur des Werkes sinnlich erfahrbar macht. Anders als bei statischen Hörsituationen, z.B. durch fix installierte Stereolautsprecher oder bei einem auf eine Bühne ausgerichteten Livekonzert, können die Besucher sich hier selbstständig durch die Komposition bewegen."
Project in Progress! (2016)
Research, live electronics and sound installation for theatre
Heinrich-Böll-Stiftung Berlin
Sound installation (2016)

"The Measure of All Things Exhibition: Rethinking Humanism through Art"
2016-10-13 - 12-10
UB Department of Art, New York    
Performance-Podcast - composition (2015)

Palais des Beaux Arts Wien                                                                                                            
Site-specific sound installation with 4 music boxes (2014)

"Klang - Farbe - Ludwig"

Kammerakademie Potsdam                                                                                                          
Auftragswerk der Deutschen Oper Berlin (2014)

Live electronics and Sound Design for Theater (2014)

Schaubude Berlin                                                                                                                           
Sound Design - Generative composition for bicycles (2014)

Acht-Brücken-Festival Köln                                                                                                             
Composition for photography - Photography: Karoline Schneider (2014)

Kommunale Galerie Berlin,
Kulturamt Charlottenburg-Wilmersdorf                                                                              
This film is part of THE SUSTAINABLE EXHIBITION (2008)
Curated by soderberg.tv (Johan Söderberg)